Posted by Walter Nigh on Jul 22nd 2021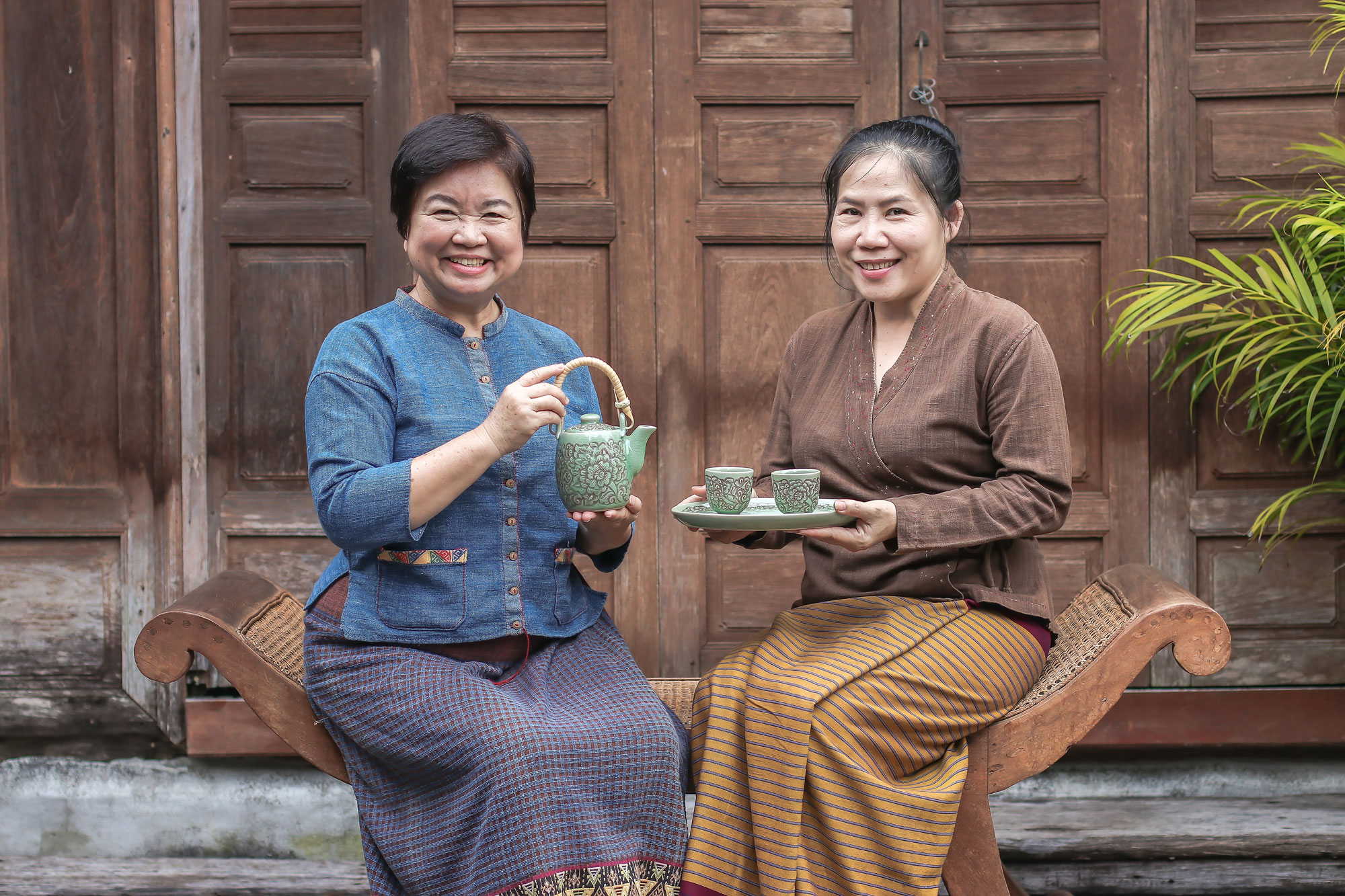 Thatsanee and Ramphan, dressed in traditional northern Thai dress, showcasing a celadon tea set.
Celadon is "high-fired, glazed stoneware," notable for its greenish tint derived from the ash-based glaze combined with a high-intensity heat process. The results are remarkable and your first impression may the pieces are made from jade. The truth is: the celadon process is similar to the creation of ceramics or porcelain, but an additional well-defined and refined technical process elevates celadon far above other clay-based products.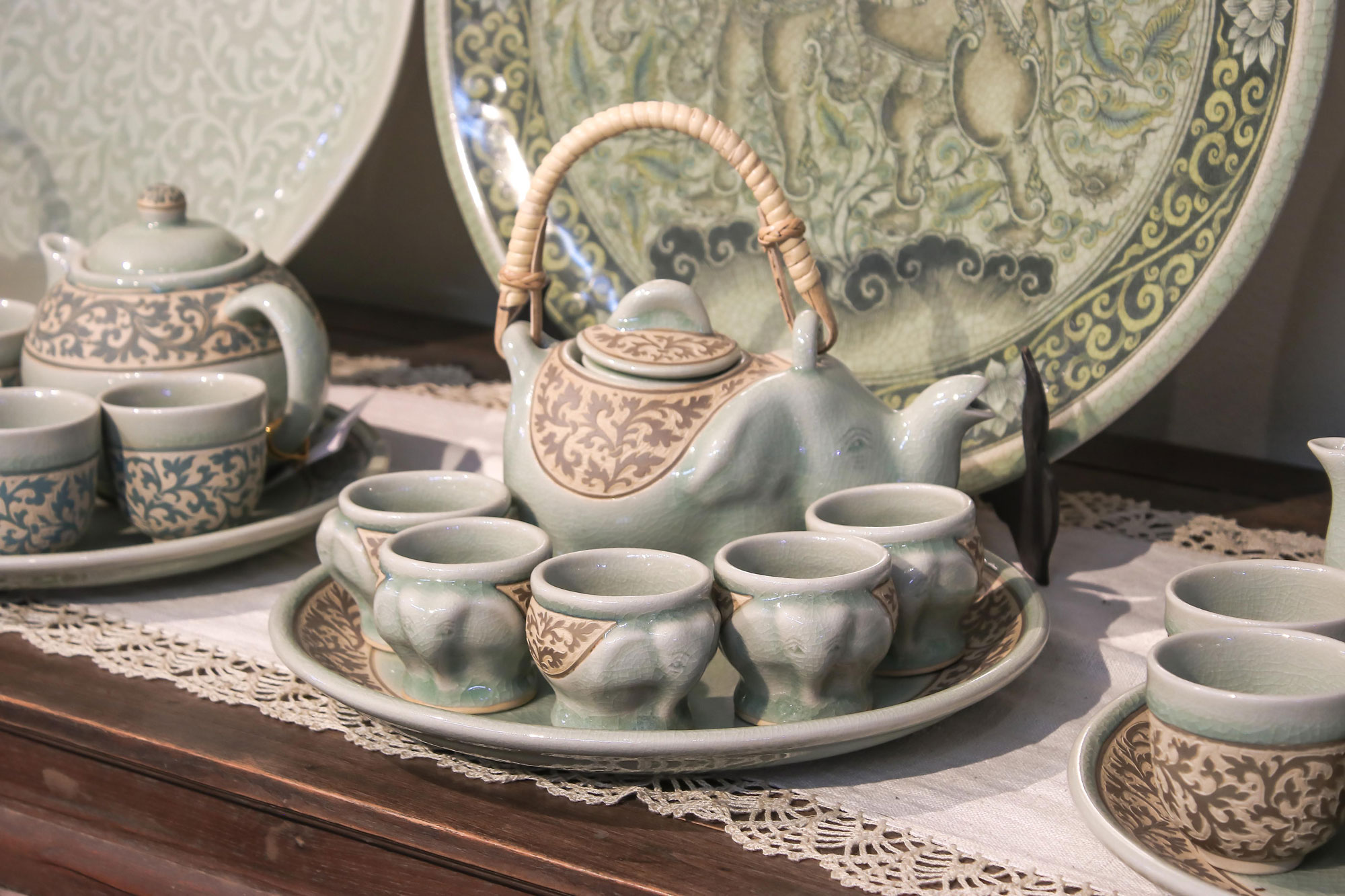 Chiangmai Celadon is a company located in the foothills outside Chiangmai. Upon entering Chiangmai Celadon's nicely landscaped, five-acre compound, One is immediately impressed with the beauty and attention to northern Thai architectural detail. Several two-story, open-air, "lanna-style" teak structures contrast with the modern showroom and production facilities. Surrounded by flowing beds of colorful flowers, palm trees in various strains gently sway in the balmy wind.
When taking quick look around it feels like wandering through a museum showcasing wares their in-house artisans have created over the last 30 years. Some celadon pieces are still for sale and have become collector-items, still increasing in value and locking in the culture and custom of this ancient art form.
Thatsanee and Ramphan are two Thai artisans who have formed a very profitable alliance. Thatsanee, the business savvy woman behind this operation is very outgoing and engages easily in a conversation about her passion for celadon. Her background is in banking and management, but her heart fell for celadon production. She began a small celadon production business with a partner and has flourished for more than three decades. The fruits of her passion are now well evident.
Ramphan, quiet and reserved, is Chiangmai Celadons' best artisan. Not only does her friendship with Thatsanee span many years, their unique skillsets produce exquisite products that span generations of Thai art and decoration. Ramphan started out as a student with a burning desire to learn more and the drive to constantly advance her skills. Today her unique "story-telling" style shows her exquisite attention to fine detail. After watching her work, I'm amazed at the concentration and attention required for the tiny, perfectly painted lines, swirls, and splashes to come together into fine Thai art.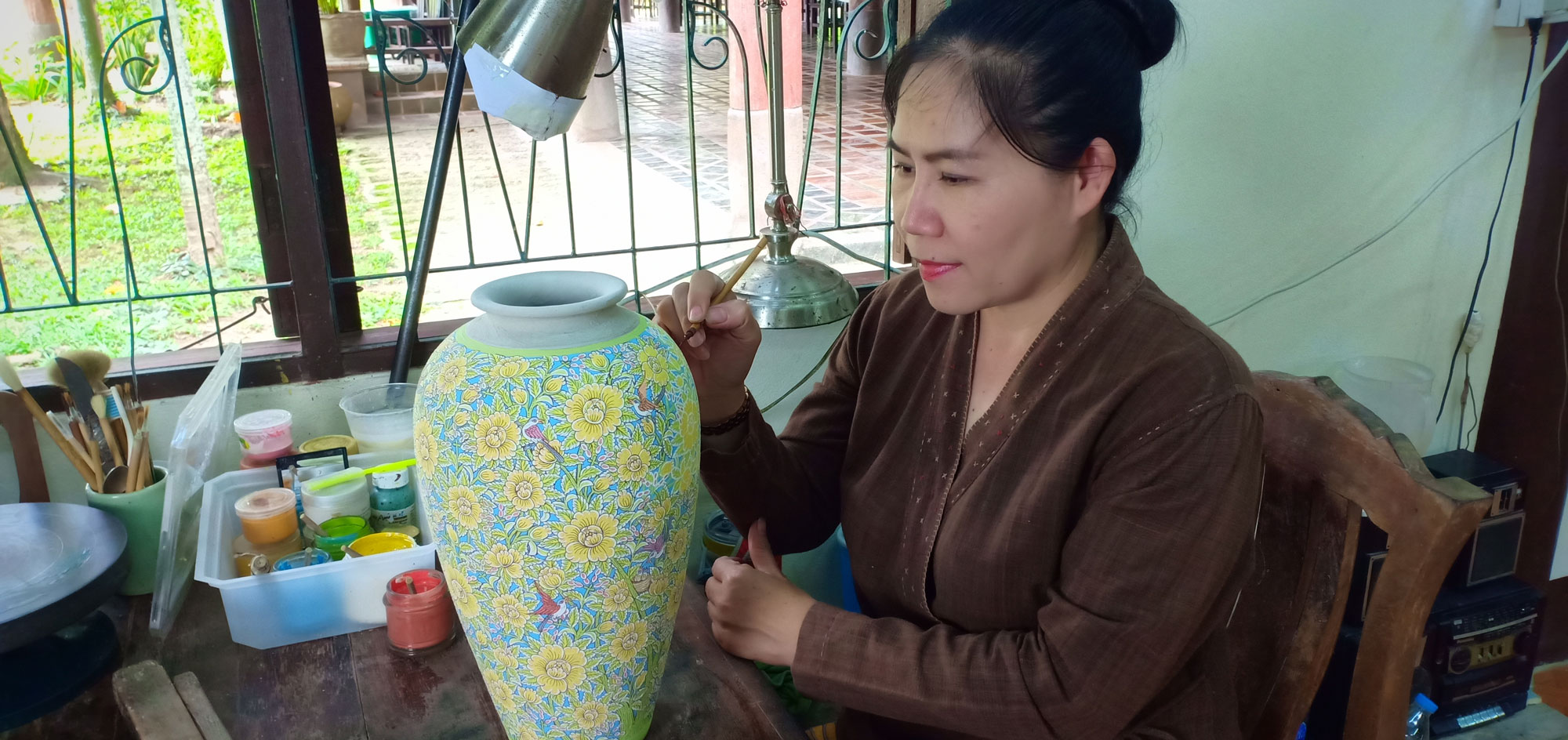 When asked about Chiangmai Celadon and its employees, it becomes apparent how Thatsanee cares about her staff.
"In regards to my 40 employees. I treat them more like family and partners, rather than workers. I value their talents and abilities. Many of my partners' abilities were developed in their leisure time. After working, planting, and harvesting in the rice fields, they created handicrafts for special events and occasions. They honed their expertise and this is when they became recognized as artisans. Our products are an outgrowth of this."
Thatsanee tells us that celadon is definitely extraordinary. She says, "There are many levels of celadon production; normal or standard, craft designs, collections, masterpieces, and unique. Our production facility started out manufacturing tableware products, but quickly moved into decorative items, and then evolved into products focusing on cultural preservation. I've directed my artisans into the upper levels by crafting pieces worthy for any high-society decorations, and for any elegant office or home showcases."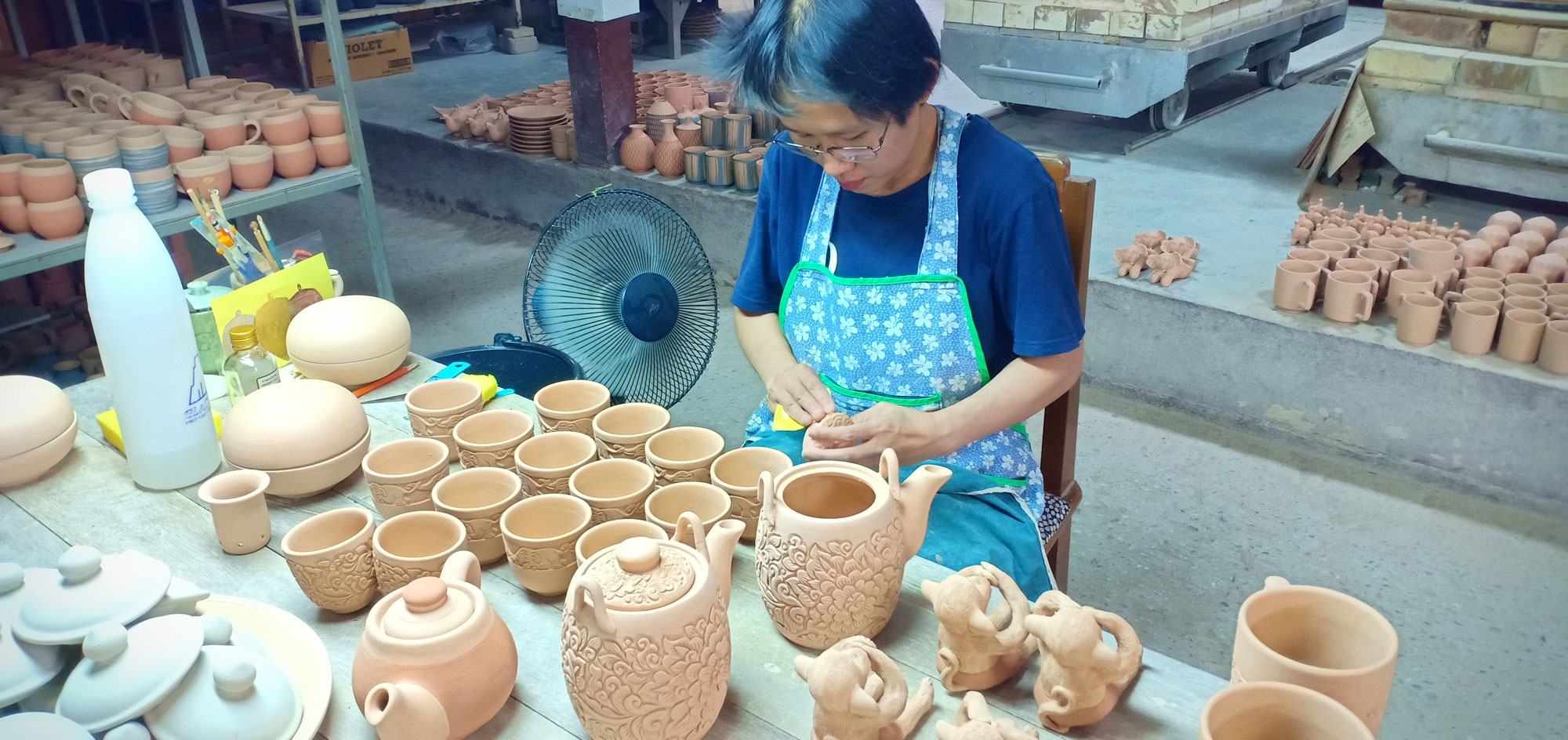 We asked Thatsanee what makes their products different from other local celadon providers?
"Our basic earthen compound, after being washed and cleaned is mixed differently and formulated from years of celadon experience. Each product is formed, then kiln-dried to remove all moisture, and finally glazed with a special mix of glazing compounds to create the well-known, jade-colored finish.
"All our products are Geographical Indication (GI) certified, which verifies where they are made. We use high-grade materials sourced locally. Our products are crafted with elegance, skill, and uniqueness of style by Thais living here in the community."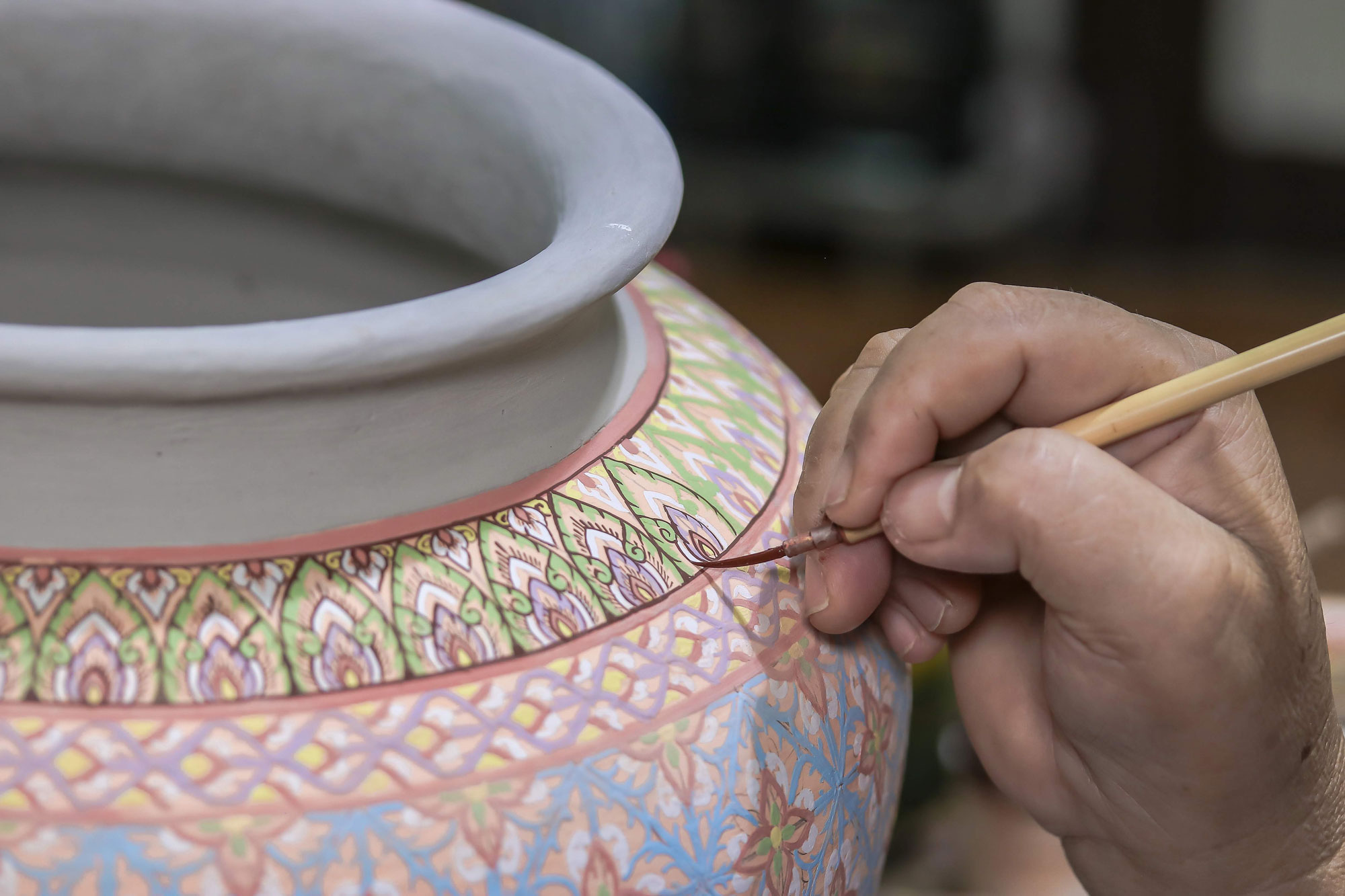 From tableware to modern art, Thai celadon has made the leap into Thai Heritage Collections and art pieces. Thatsanee admits her products are no longer for everyday use but are specifically created to preserve the long-held techniques of the artisans and the culture of bygone Thai generations.
As with other traditional methods fading in this modern age, the processes and traditions of celadon production are at risk. Chiangmai Celadon offers workshops for tourists and other groups in an effort to encourage newer generations to become involved with this ancient art form. The company compound and production areas help people understand the celadon processes as well as giving them hands-on experience with the in-house artisans.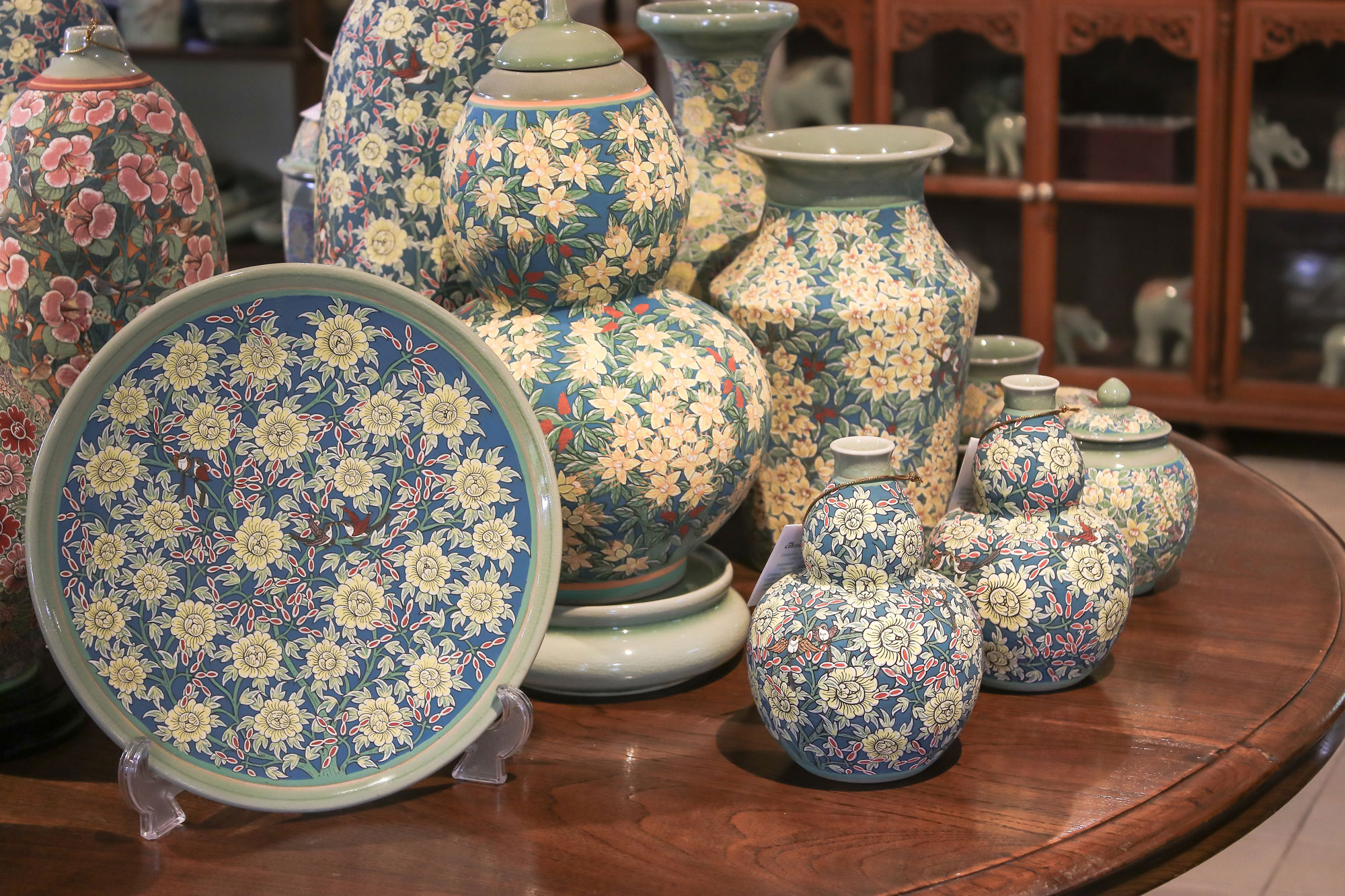 Thatsanee has partnered with NOVICA since they began operations in Thailand. Established in 2015, her current company and brand continue her earlier partnering with NOVICA.