Posted by Jacqueline Faber on Aug 31st 2021
West African jewelry traces its roots deep into the past. Exquisite beadwork harkens back to an ancient form of currency. Cowrie shells carry with them symbolic value. Religious, spiritual, and nature-inspired motifs still find expression in the handwork of West African jewelry artisans, who now infuse new techniques and materials into their creations.
Whether you're looking for a modern earring fashioned of recycled material or a traditional necklace crafted from glass beads, you're sure to find it in West Africa.
The Real Deal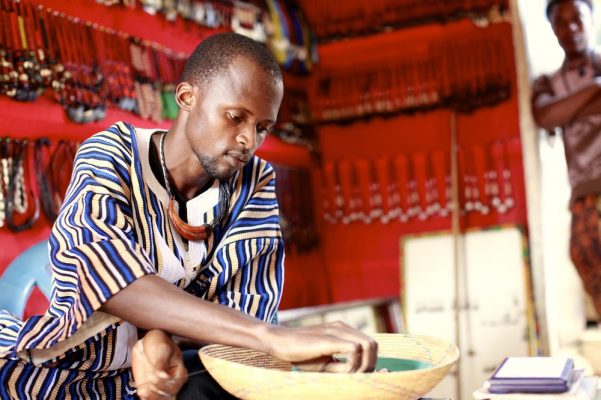 It all started with a cow. Well, a herd of them.
"My forefathers were predominantly millet and cattle farmers," Ila Suleyman says. "They would use the leather of the animals they reared for clothing and accessories such as talismans, bangles and necklaces." One day, Ila's great-grandfather took a look around and realized that these farmers had more than cattle and millet to offer the world. They had developed skill and talent and a keen eye for beautiful jewelry.
Thus was born a family enterprise in jewelry making that welcomed Ila into the fold when he was very young. He would follow his grandfather around the workshop, where he learned to prepare natural leather and create beautiful objects from it.
The traditions of old gained new life under Ila's touch. "I designed a more youthful and modern collection which was incorporated into the traditional styles that we were accustomed to creating. These sold very well."
Ila himself clearly feels up to the task of taking back authenticity. "I rise above this by producing wonderful and more interesting handmade designs. I also work with other artisans who create handmade jewelry in order to highlight the positive impact it has in our lives when people support artisans."
What better sentiment to celebrate the gorgeous world of West African jewelry!