Posted by Julissa Carrillo on Dec 4th 2020
His mother was killed in the crossfire of Guatemala's civil war. He was sexually abused at the age of 11 years old. But this artist uses that very pain and suffering to lift his community out of poverty.
It began with a vision. Seated beneath a tree on the shores of Lake Atitlan, Cristobal Ramírez allowed his mind to wander. For just a moment, he let himself leave behind the sorrow, brutality, and pain of everyday life to indulge in a fantasy about his future.
A moment was all he needed. In his vision, he caught a glimpse of his future wife and children, and he knew that he would push himself to conquer the impossible—confronting his own past—in order to create a different life for himself.
Lake Atitlan with Fishing Boats
The Artisan
Cristóbal was born in the town of Santiago Atitlan in the Solola Department in southwestern Guatemala. It is set on the shore of Lake Atitlan and the people here are mostly Tz'utujil Maya. Cristobal's mother faced extreme poverty day after day with four children to raise. She saw the need to send her oldest son out to fish. At the age of five, Cristobal spent most of his time on the lake but, even with few hours to sleep, he never missed school. He struggled every day to change his destiny and that of his family. Today, steady work has let him send both his children to college.
"The waves on the lake were unusually strong several months ago and they inspired me to create a special collection for NOVICA," Cristobal says as he shows me a series of blue bracelets resting on a table in his workshop.
Tribute to His Mother:
He learned to work with seed beads thanks to a tourist and, ever since, Cristobal has worked to craft jewelry and perfect his techniques. This helped him support his brothers and sisters, and today this art supports his children. In addition to this, he has been teaching the craft to the women in his community who, like his mother, struggle to feed their families. Today, some 15 families depend on the work that he gives them.
While Cristobal derives inspiration from many places, his work always returns to one powerful source: the woman who gave him life.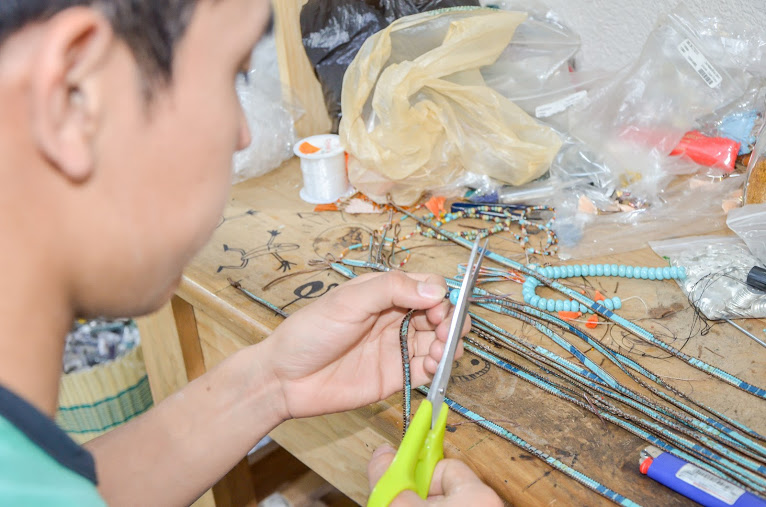 His jewelry has been sold all over the world and he has designed for well-known people in the world of fashion. This artisan and young businessman has one great goal — that his community does not live in poverty. His vision for the future is that children won't need to work to help support their families as he did, but that they can study and advance in life.
With this impressive story, I admiringly ask Cristobal, "How have you been able to recover each time you stumble?"
"What moves me and motivates to keep going until I achieve my vision, is something that comes from inside me," he replies. "It's love."
He says, ultimately, that it is love which moves him forward.